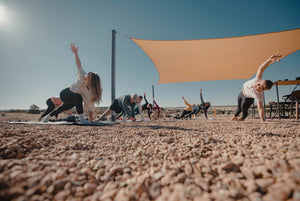 OUR NEXT EXPERIENCE
Community. Collaboration. Creativity. Color. Connection…
...from sunrise to sunset, our experiences are hand-crafted with you in mind. Who's ready for a New Nuevo experience?
EXPERIENCE INFORMATION
Through New Nuevo's collaborative and refreshing experiences, you will find comfort, beauty, and connection with those surrounding you. Our experiences are composed of four (really five) of New Mexico's best-kept secrets: food, coffee, wine & spirits, and beautiful landscapes. So pull up a chair, take a taste, and join us on our next adventure...
New Nuevo's Experiences begin in Summer 2023. Let's explore something new, let's spark a connection, and let's celebrate the electric love of New Mexico.